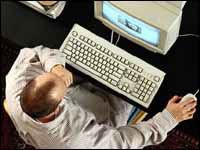 Although we're proud of our products, services, and technology, nothing matches the pride we have in our staff. You see, we learned long ago that we're really in the business of building relationships. For that reason, we put a premium on hiring only the most qualified individuals to serve on our team.
Every person on our staff is committed to providing excellent customer service and producing high-quality products and services. As you work with us in the future, we're confident that you'll find this to be true.
Steven Haire, Owner & President. Steve has been involved in printing for over 32 years, mainly in the newspaper insert segment of the industry. Steve has worked for some of the largest printers in the world, managing plants for Quebecor World, RR Donnelley, World Color and Pro Line Printing.

Bill Kirgis, Production Manager. Bill has been with our company for 11 years. He has been in the printing Industry for over 25 years. Bill has a vast knowledge of all aspects of the business. For quotes or technical advice and for great money saving ideas, just give Bill a call at 602.231.8525 and he will be glad to help.

Don Boushelle, Graphic Designer. Don has been with Benchmark for over 10 years. Don has a great talent for taking an idea or concept and turning it into a finished product that will impress a customer beyond words. Give Don a call with your ideas for logos and designs and see how he can help you project a great image.

Bill Vickers, Pressman. Bill has been an employee with Benchmark Printing for over 4 years and in the business for over 30. He is experienced in all types of printing and finishing equipment. You can trust that Bill will turn out a printed piece beyond your expectations.

Bobbi Arnold, Customer Service Representative/Digital Press Operator. Bobbi is a 16 year employee of Benchmark Printing. She is proficient in the operation of all the Bindery equipment. As a seasoned CSR and Quality Control Specialist, she is the last set of eyes on your job before it goes out the door and be assured, there is nothing that doesn't meet the high standards of Benchmark Printing gets by her.